Karrueche Tran posed for ROLLING OUT Magazine recently where she channeled her icon Yoko Ono in a sultry photoshoot.  Check out a sneak peek and video teaser from the spread inside….
She's prepares to make an impact on the fashion industry with her fashion label "The Kill" (which she was originally commissioned by Chris Brown to start as the female counterpart to his Black Pyramid label). Karrueche Tran is stepping out in a big way as she's set to cover an upcoming issue of ROLLING OUT Magazine.
No longer comfortable with being in the shadow of ex-boyfriend Chris Brown, Karrueche seems to be opening herself up a lot more to the media in an effort to establish herself as a "brand" and not just a side chick.
In the photo spread that accompanies her chat with the magazine, she cites Japanese artist and peace activist Yoko Ono as one of her fashion muses.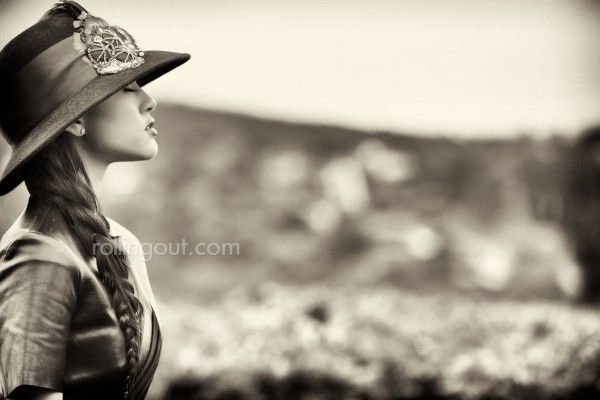 The interview and magazine will hit shelves on January 24.  And in the meantime, we have a teaser from the shoot where Kae talks about Yoko and how she drew inspiration for her look….
<object id="darkOnyx_video59″ width="480″ height="385″ classid="clsid:D27CDB6E-AE6D-11cf-96B8-444553540000″ codebase="http://download.macromedia.com/pub/shockwave/cabs/flash/swflash.cab#version=9,0,47,0″><param name="movie" value="http://rollingout.com/vpanel/players/darkonyx.swf?videoID=59″ /><param name="bgcolor" value="#000000″ /><param name="allowFullScreen" value="true" /><param name="allowScriptAccess" value="always" /><embed src="http://rollingout.com/vpanel/players/darkonyx.swf?videoID=59″ bgcolor="#000000″ name="darkOnyx_vid59″ width="640″ height="360″ type="application/x-shockwave-flash" allowFullScreen="true" allowScriptAccess="always" pluginspage="http://www.macromedia.com/shockwave/download/index.cgi?P1_Prod_Version=ShockwaveFlash"></embed></object>