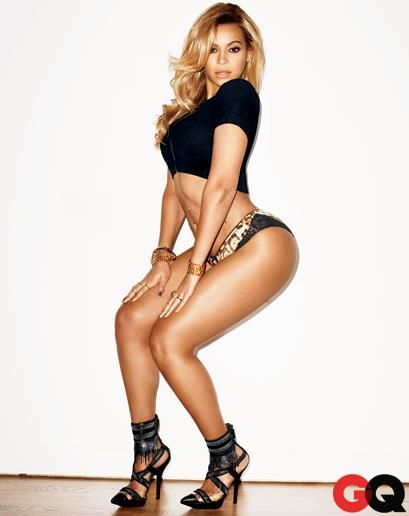 The hardest working woman in the entertainment biz is stinging all over the place already this year.   Beyonce Knowles had people's tongues (and man parts) fluttering with her newest sexed up February 2013 GQ cover (her 5th, by the way).  And now, we get the rest of the photos from her titillating sporty spread.  And from the looks of the above Dolce & Gabbana panties, Azzedine Alaïa crop top and Versace heels, it's giving football a whole new sex appeal.
Plus, the curvalicious Girl who Runs The World talks about why she now does whatever the hell she wants since turning 30….
She's been named GQ magazine's #1 Hottest Woman of the 21st Century.   And here's why: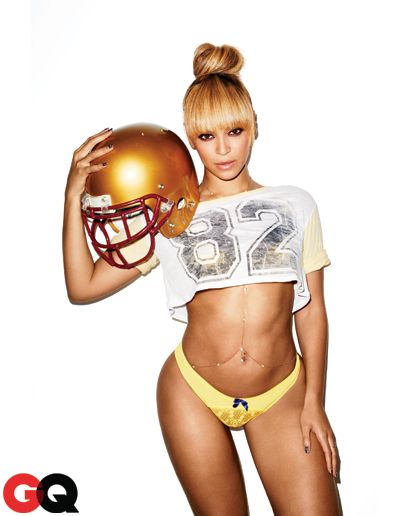 Yes ma'am.  Beyonce has no qualms about showing off that post baby bod…and killer abs…for the world to see.  And hell, can we blame her?  The baddie's pics from her newest GQ football-inspired shoot are out.  And the chick is whetting everybody's whistle before her big Halftime show at the 2013 Superbowl.
Here's a few highlights from her cover story, where we find out why she's choosing to run her empire her damn self, why she now lets herself to do what she pleases, and why she's getting that old thing back musically from her start in the 90's.
On working her whole life so she could let loose at 30 years old
"I worked so hard during my childhood to meet this goal: By the time I was 30 years old, I could do what I want," she says. "I've reached that. I feel very fortunate to be in that position. But I've sacrificed a lot of things, and I've worked harder than probably anyone I know, at least in the music industry. So I just have to remind myself that I deserve it."
On how her career compares to a professional athlete's
"One of the reasons I connect to the Super Bowl is that I approach my shows like an athlete," she says now. "You know how they sit down and watch whoever they're going to play and study themselves? That's how I treat this. I watch my performances, and I wish I could just enjoy them, but I see the light that was late. I see, 'Oh God, that hair did not work.' Or 'I should never do that again.' I try to perfect myself. I want to grow, and I'm always eager for new information."
On how performing gives her life
"I love my job, but it's more than that: I need it.  Because before I gave birth, it was the only time in my life, all throughout my life, that I was lost." She means this in a good way: When her brain turns off, it is, frankly, a relief. After drilling herself, repeating every move so many times, locking them in, she can then afford not to think. "It's like a blackout. When I'm onstage, I don't know what the crap happens. I am gone."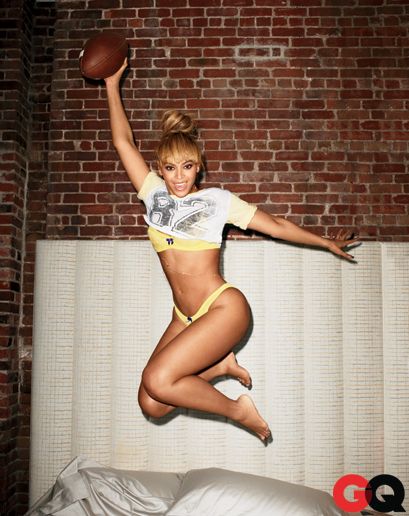 (T-shirt by Topshop, Bra and panties by Agent Provocateur)
QUOTES FROM BEYONCE'S UPCOMING HBO DOCUMENTARY (as reported by GQ)
Talking to herself during a revealing video clip
"Stop pretending that I have it all together.  If I'm scared, be scared, allow it, release it, move on. I think I need to go listen to 'Make Love to Me' and make love to my husband."
Solange on her sister's perfectionist ways
"I have very, very early-on memories of her rehearsing on her own in her room. I specifically remember her taking a line out of a song or a routine and just doing it over and over and over again until it was perfect and it was strong. At age 10, when everybody else was ready to say, 'Okay, I'm tired, let's take a break,' she wanted to continue—to ace it and overcome it."
Beyonce on the inequalities of money between men and women
"You know, equality is a myth, and for some reason, everyone accepts the fact that women don't make as much money as men do. I don't understand that. Why do we have to take a backseat?" she says in her film, which begins with her 2011 decision to sever her business relationship with her father. "I truly believe that women should be financially independent from their men. And let's face it, money gives men the power to run the show. It gives men the power to define value. They define what's sexy. And men define what's feminine. It's ridiculous."
On channeling anger to perform
"I used to like when people made me mad, "I'm like, 'Please piss me off before the performance.' I used to use everything."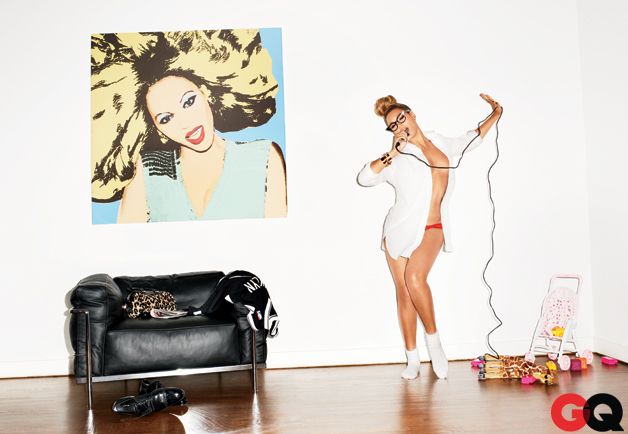 (Shirt by Gucci. Panties by Agent Provocateur. Socks by American Apparel. Glasses by Moscot. Top bracelet by Louis Vuitton)
On her collaborators:
"I've been working with Pharrell and Timbaland and Justin Timberlake and Dream. We all started in the '90s, when R&B was the most important genre, and we all kind of want that back: the feeling that music gave us."
On songwriting:
"I used to start with lyrics and then I'd find tracks—often it was something I had in my head, and it just so happened to go with the melody. Now I write with other writers. It starts with the title or the concept of what I'm trying to say, and then I'll go into the booth and sing my idea. Then we work together to layer on."
And speaking of Justin Timberlake,  he tweeted that he will be releasing a new song today.  And word has it, both Beyonce & Jay-Z will appear on it.  Stay tuned…
Check out the full story with Amy Wallace over at GQ.
Photog: Terry Richardson