Rapper Nicki Minaj will launch her own line of fashions, housewares and accessories this holiday season.  Get the deets inside and see Azealia Banks' response to GLADD about using the "F" word…..
In case you didn't notice, Nicki Minaj marked her return to Twitter over the weekend tweeting,
"I really didn't plan on leaving barbz! =( just sorta happened…I learned a lot on my little sabbatical tho… so enlightening, so peaceful."
Her absence didn't make headline news like it did when she completely deleted her Twitter account a while back, but she told fans,
"I didn't leave barbz, I was still here in spirit and u guys KNOW that so stop with the dramatics!!! LMAO.
And Barbz should expect a lot more than tweets out of Nicki this year as she expanding beyond her popular Pink Friday scent and launching a new line of accessories, housewares and fashions.
The planned parternship was revealed to the NY Post and spearheaded by Charles Koppelman, the former EMI, Steve Madden and Martha Stewart Living Omnimedia boss. While working on a similar deal for Adam Levine, Charles plans to launch a Nicki-headed collection with a retail giants like Target, K-Mart or Wal-Mart for the holiday season later this year.
Looks like Barbz will soon have their choice of Pink Friday plates, pillows and pants to pick from.  Interesting…
In other rap news…..
Azealia Banks spent last week playing defense as she fended off attacks from Angel Haze and a certain blogger which prompted her to drop the "F" bomb.  But no matter how turnt up Azealia might have been, fans didn't give her a pass for her use of the gay slur and GLAAD issued its own public statement saying,
"Banks' claim that the word "fa**ot" doesn't mean a gay male is not true. Regardless of her intent or her personal definition, what matters is the meaning given to that word by those who hear it, and the damage it causes when they do.

"Undoubtedly there are gay kids who follow her on Twitter who hear this word in an entirely different context. This word is used almost universally by bullies, often as part of a larger verbal or physical assault. This word hurts those kids, no matter what Banks meant by it."
Azealia went back to Twitter (which probably wasn't the best idea) and attempted to explain yet again why her use of the word wasn't that bad….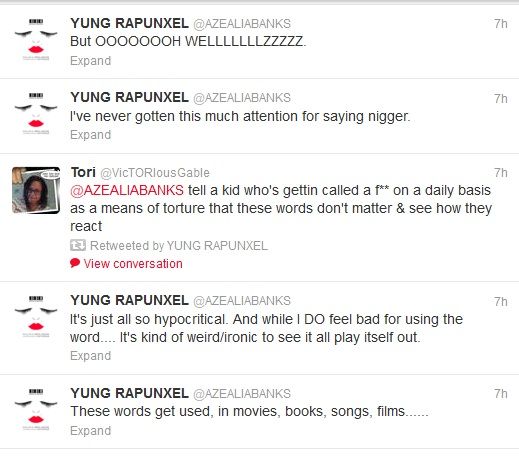 With most people questioning whether Azealia still has a record deal, if she's still with her manager and if she still has anyone guiding her career, it's safe to say she and Fantasia should take a page out of Chris Brown's 2012 playbook and take a Twitter break.  The more they tweet…the worse it looks.