The GIFs and the ish that happens away from the stage is what makes suffering through a three and a half hour award show worth it.  Check out our fave highlights from last night's 2013 GRAMMY AWARDS, and the folks we missed in our first red carpet sweep, inside…
The awkwardness was at a semi-high last night as Frank Ocean beat out Chris Brown for the Best Urban Contemporary Album.  And, with his his hand still bandaged from their alleged "fight" at the studio a few weeks ago, he had to walk past Breezy who sat on he front row in order to accept the award.
Everyone in the audience gave a standing ovation….Chris stayed seated.  But we don't really blame him  He still was a good sport and clapped for the guy.  What more can you expect when he says he's being falsely accused by Frank of hitting him?  Still….it was the talk of Twitter.  And GIF land.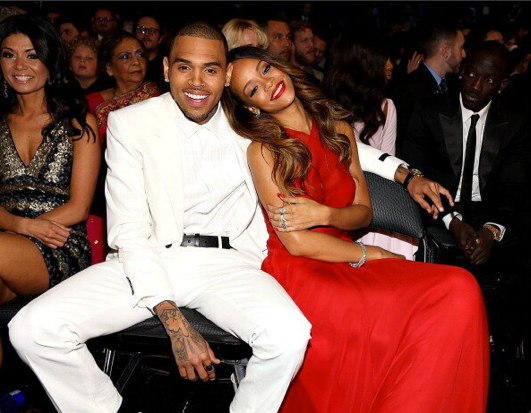 Chris & Rihanna were also on everybdy's radar as they snuggled up in the audience–after walking the carpet separately–four years after the incident.
Jay-Z and Drake had to catch their breath and adjust their suit and ties after J.lo walked out on stage damn near giving folks the Holy Ghost in her sexy Anthony Vaccarello dress. She trumped Angelina's "Jolie leg" with this hotness. And this is how the cameras caught the fellas reacting int he audience:
Hilar.
Speaking of Hov, he said bump a red cup, he's drinking his own D'Usse Cognac out of one of his 3 brand new Grammys.  Literally.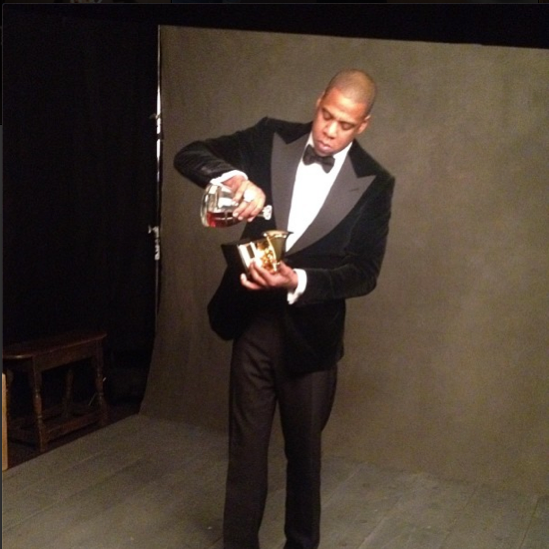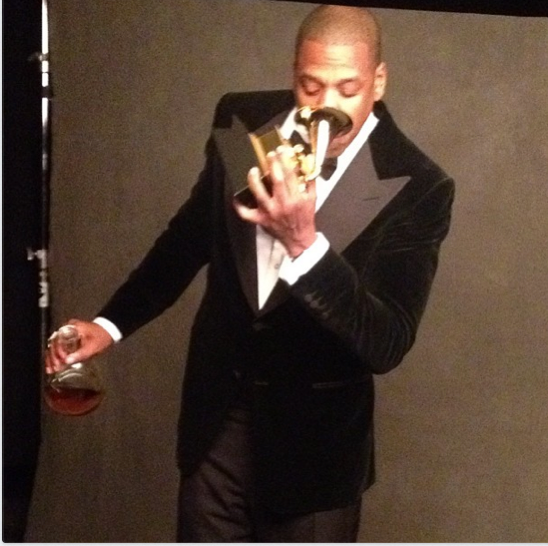 Gotta love the press room flicks.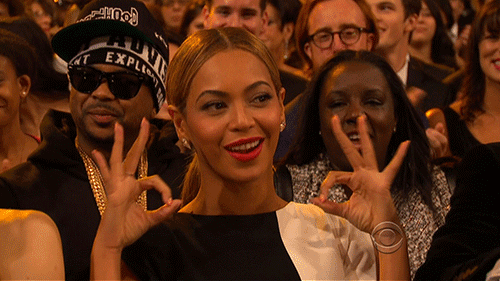 This Bey "sign" had folks all a-Twitter last night.  People said she was doing everything from throwing up gang signs to signaling the Illuminati to her own Bat Call.  Everybody calm down.  Host LL Cool J had just shouted out where certain celebs were from, and he mentioned Beyonce coming from Houston.  Like she has done many times before, she was signifying "3rd Ward", the well known section of H-Town she was born and raised in.  Chill.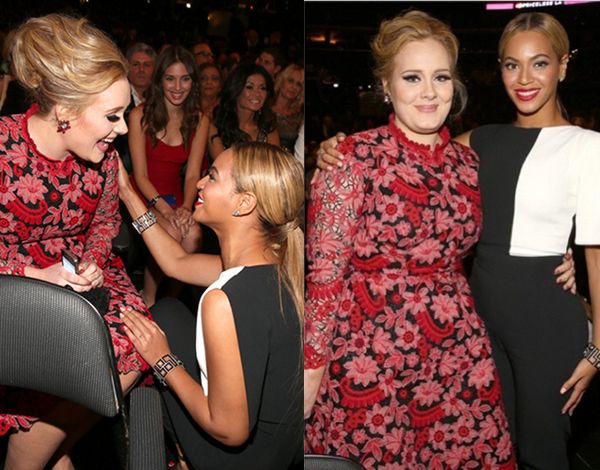 And speaking of Bey, we loved the mutual love she and Adele were spotted sharing in the audience.  They're self proclaimed stans for each other.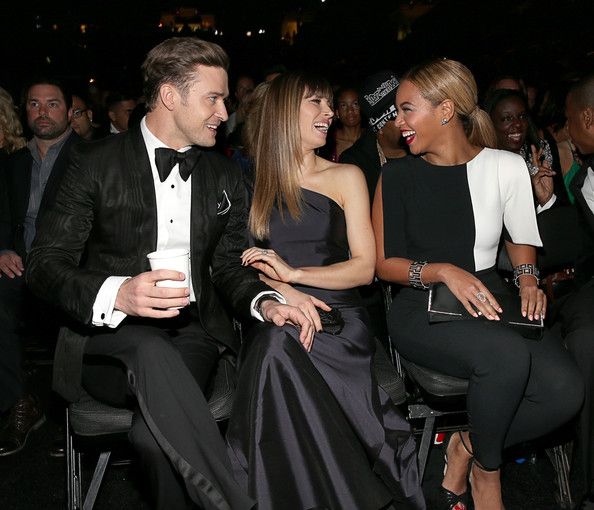 Sitting front row with Jay & Bey is always the fun place to be it seems.  Justin Timberlake and his new wife Jessica Biel hammed it up with the Carters before and after JT & Jay's performance.
People got a kick out of Ellen and Bey's introduction of JT's performance.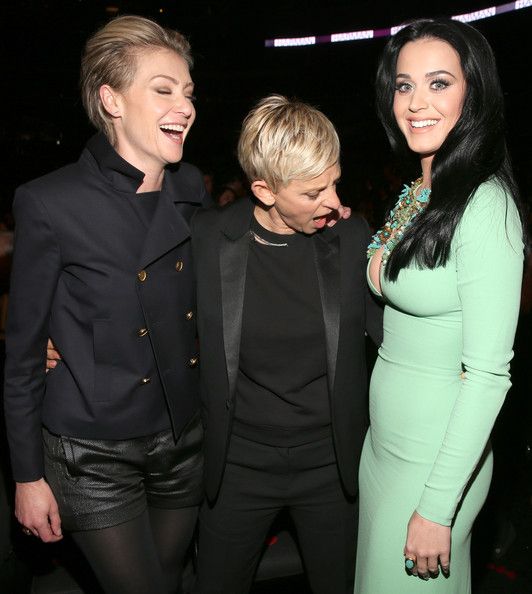 And we got a kick out of Ellen salivating over Katy Perry's boobs in that Gucci dress.
The Dream got publicly played by Hov for his "SwapMeet" hat.  Ha!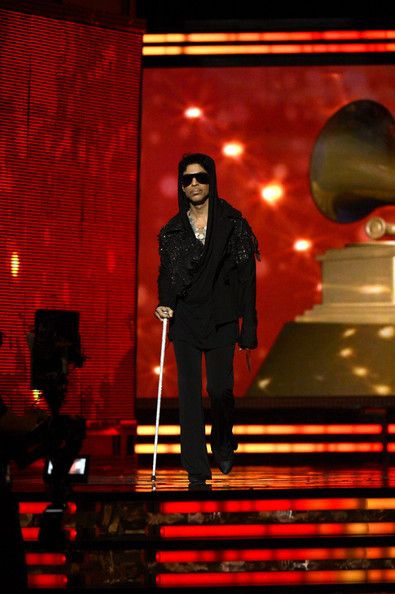 Prince shut everything down with his cane and shades as he hit the stage to present.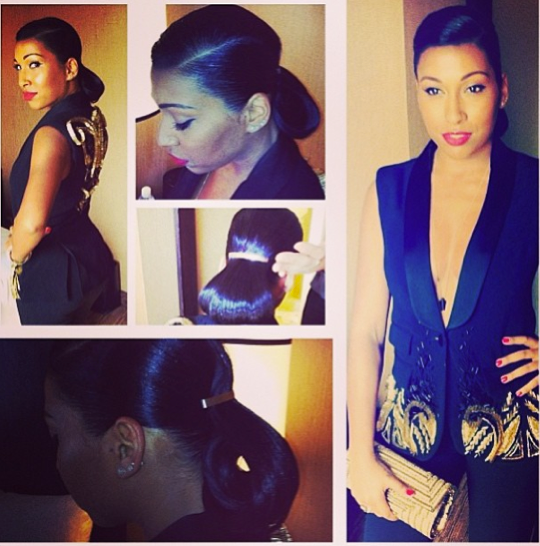 We missed Melanie Fiona on the carpet, but the Grammy nominee showed off her hot look from last night on Instagram.
Producer Hit-Boy wore a Tom Ford Spring/Summer wool and silk cocktail jacket, black Faille tuxedo pants, purple liquid velvet evening slippers and purple liquid velvet bow tie.  And even copped and award for Best Rap Song, for his work as a producer on Jay-Z and Kanye West's "N****s in Paris".
Folks thought Kelly Clarkson clowned Miguel when she screamed into the mic when she won her award, "I don't know who you are…but I want to work with you!"  She was just being a innocent self who likely really doesn't know who Miguel is, but loved what she saw form his performance  She even tweeted a pic backstage with him to show her excitement.
THIS is what Lupe Fiasco looked like last night.  We're highly upset about it.
Bringing your mom as your date was the trend last night.  Questlove from the Roots did it, and so did Luke James and Frank Ocean: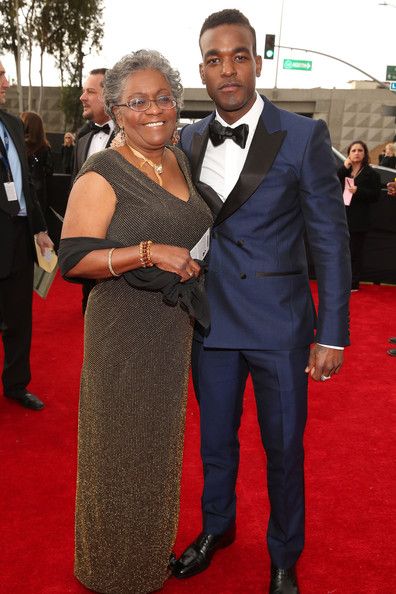 By the way, Luke rocked a suit by Devon Scott.
We can only guess what this convo was like.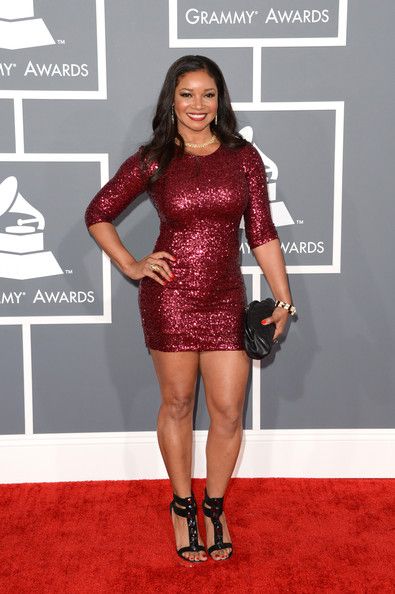 How did Tamala Jones get in?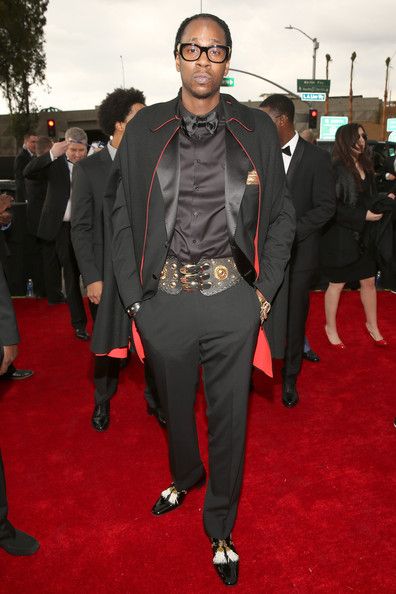 Count 2 Chainz rocked his cape and embellishments on the carpet.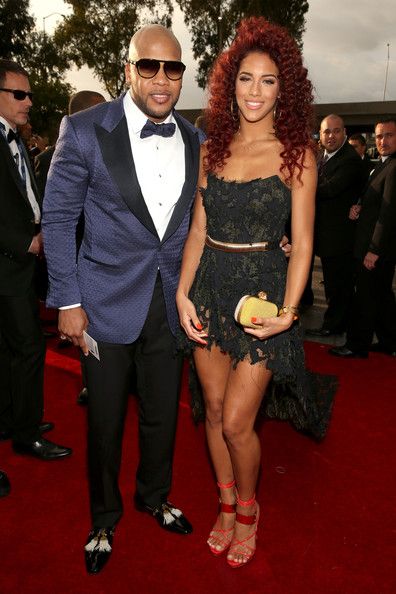 Flo Rida brought his new artist Natalie along for the red carpet ride.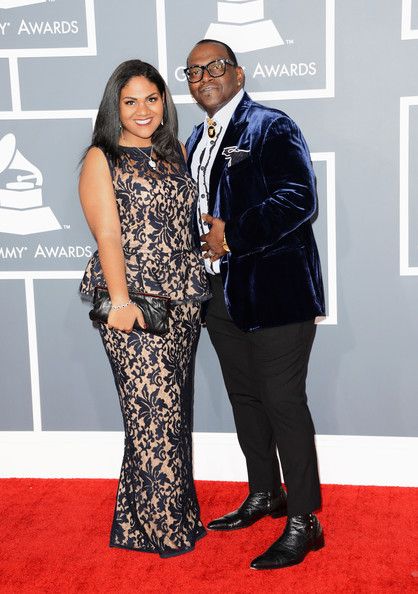 Randy Jackson brought his daughter Zoe with him as his date.  Pops rocked Angelo Galasso and Armani, while Zoe rocked a blue lace Tadashi number.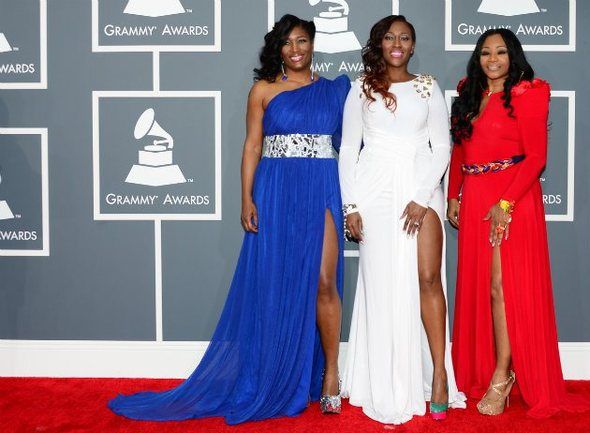 The Grammy nominated SWV–Tamara Johnson-George, Cheryl 'Coko' Clemons and Leanne 'Lelee' Lyons–wore custom gowns created by Philadelphia bred fashion designer, Ty'ron Perrin of the Marquette Collection.  And we're loving the red, white and blue coordination.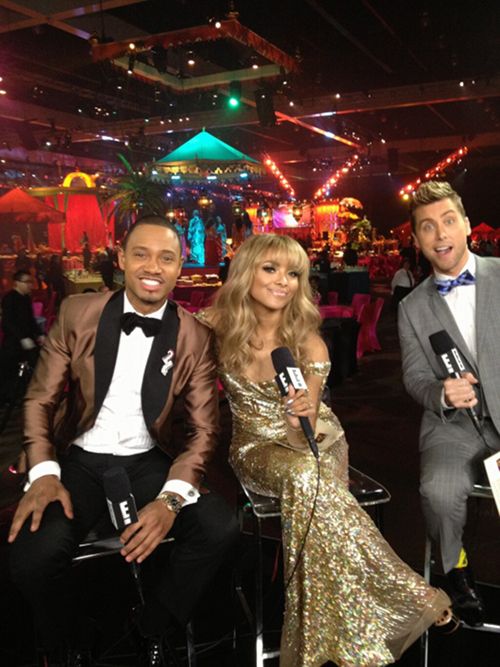 And Terrence J. hosted the E! afterparty show with "Vampire Diaries" actress Kat Graham and Lance Bass.  TJ rocked a gold 5001 flavors jacket, Gucci slacks, Ferragamo shoes, a Black Label Ralph Lauren shirt, his Lanvin bowtie and a Rolex on his wrist.  Kat Graham went blonde and rocked a gold George Chakra dress with Guiseppe shoes.