Verbal shots were fired in Houston last night after Lil' Wayne slammed the Miami Heat organization and said he was ready to take it to the streets with Lebron and Dwyane.  Oh….and he claims he had sex with Chris Bosh's wife!  Watch the shocking video inside….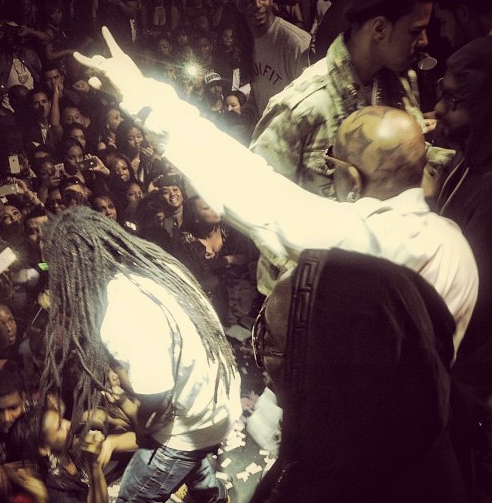 Lil' Wayne was wilin' out in Houston, Texas last night as he hit the stage at Stereo Live for the official YMCMB concert and NBA All-Star after party (with Drake and Birdman).  With a rant that can't be mistaken for anything except a "threat" we (and tons of party goers) found out that Weezy is still pissed about being ejected from a Miami Heat game over a week ago.  Apparently, the Heat went a step further and had him banned from all NBA events.
A little refresher….

So last night, he hit the stage and SLAMMED the entire Miami Heat organization and told the crowd that this "wasn't a Twitter beef" he was ready to take it to the streets.  In a rant that was caught on video, and later described with a play-by-play on Twitter by XXL Magazine's Shaheem Reid, Weezy insults the Miami Heat's biggest stars and shocking concludes by "claiming" that he banged Chris Bosh's wife Adrienne.
Just in case you aren't clear about what you are about to watch…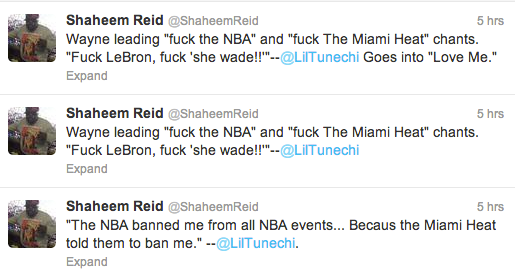 That explains why the hardcore NBA fan wasn't at last night's game.
                                                Watch the shocking clip here:
Meanwhile……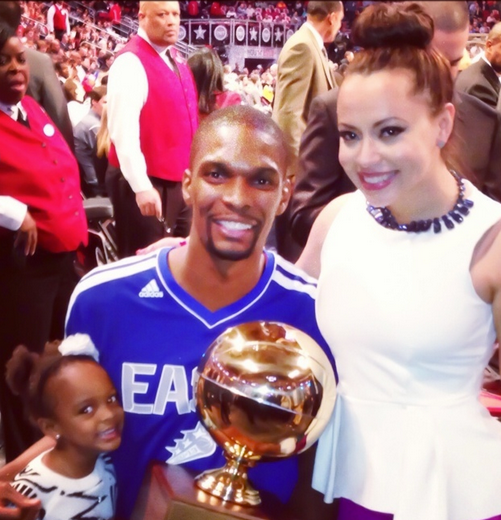 Neither Chris nor Adrienne have responded to Weezy (and they may not even know this happened) but Chris did tweet a very happy message last night saying, "Had my 2 favorite girls [Adrienne and daughter Trinity] in the world supporting me tonight…"
We hope they both ignore this…but if they don't, we'll let you know what they say.