Basketball fan Lil Wayne has a thing about getting in trouble at NBA games (like back during the NBA finals when he got put out of OKC game).  And he just got kicked out of the Heat game in Miami.  Deets inside, plus the foolishness that's still going down with Raz B and Marques Houston…
Lil Wayne was sitting courtside (pictured above) at the American Airlines Arena this afternoon for the big Heat vs. Lakers game.  And being the big Lakers fan that he his, he was cheering on the purple and gold.  And then got kicked out by security for it.
He tweeted:
So I'm @ da Heat game right, rootin 4 da Lakers kuz dats my team & would u believe they got police 2 make me leave?! Wow! F#€k da Heat
Ha!  But judging by how heated the game was at that time, and the pic of Dwyane Wade looking his way, Weezy may have said some ish that wasn't even necessary.
Meanwhile, the Lakers just lost the game–107-97.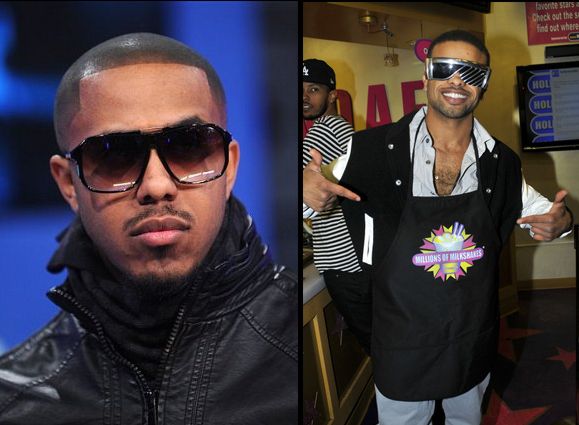 In other foolishness, the drama between former B2K members Raz B & Marques Houston is STILL going on.  After all that drama, that started back in 2010, of Raz B trying to out his former groupmates and manager of gay and molestation accusations, apparently he's still mad.  And is still threatening folks.
TMZ reports Marques has now taken out a restraining order on his ass.
In the docs, Houston claims the video "has caused me emotional distress and caused me to fear he will be violent toward himself and others." Houston claims that Raz also spoken many times about killing people as well as killing himself.

Houston also claims in the docs that Raz (famous from his days in the band B2K) has threatened him specifically on the Internet several times and this has made him "fear that my life, my girlfriend's life and the lives of my family and friends are in danger."

A judge granted the temporary restraining order last month, requiring Raz to at least 100 yards away from Houston.

A hearing to make the order permanent is scheduled to go down tomorrow.
This damn R&B beef…