Kanye West rarely gives interviews.  But when he does, they're always a doozy.  Check out what he had to say about the annual Hottest MC's list and how he feels about being #7, plus which rapper Wiz Khalifa & Amber Rose have named as baby Sebastian's godfather…
DJ Enuff on Hot 97 caught up with Kanye about MTV's Hottest MC's list.  And while 'Ye was happy for his homies who made it, he felt some type of way about being named #7 himself.  He also had some interesting choices as for who should have been at #1.  And he went at Sway Calloway too.
DJ Enuff: I saw you on the list. You came at #7 on the MTV list. That's wassup.
Kanye: That was cool and everything. More than anything, I'm happy for Sean, but I feel like he should be on top 5. He's bodying records, like the way he started off that "Mercy."

So you think you and Sean should be top 5 definitely? Maybe top 3? I know you, 'Ye. To me, you're gonna say you're the number one rapper in the world. Number 7, does this bother you?
Yeah, number 7 bothers me. I think that [Lil] Wayne is the number one rapper in the world.

You think Wayne is the number one rapper in the world?
Yeah, I just think he's like, you know, him and Jay and Em and certain people are just the greatest rappers of all time. For me I feel that in order for them to put me as number 7, they had to bring up things that they didn't like.

So you think [them not liking certain songs of yours] is what puts you at number seven as opposed to number five, four, three, two, one?
I don't think it's them really going bar for bar. I said, "Lucky I ain't had Jay drop him from the team." Ain't no bar, ain't no bar in the entire past 12 months that's hotter than that bar. That's one bar! I come from this battle rap, that's how I grew up in Chicago. I couldn't believe it. I gave Sway his first TV. He came over to my crib in Newark, NJ. I was living in Newark doing beats for Jay and Beans and all them and I was getting a new TV and I gave Sway his first TV. And really I didn't really wanna even like call to talk about the number seven list, I just wanna tell everybody that I gave Sway his first TV. And he need to remember that.
Oh 'Ye.  Weezy responded with a Thank You message on twitter, and Sway responded with this: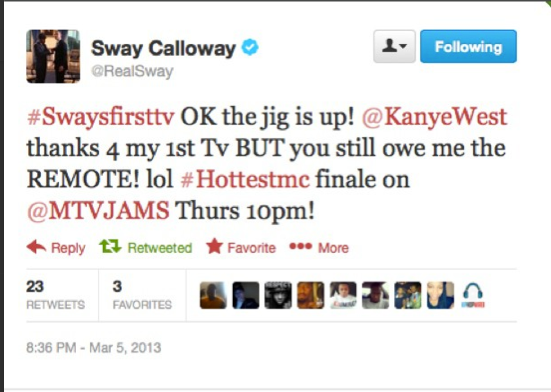 Check out the full interview below thanks to Miss Info: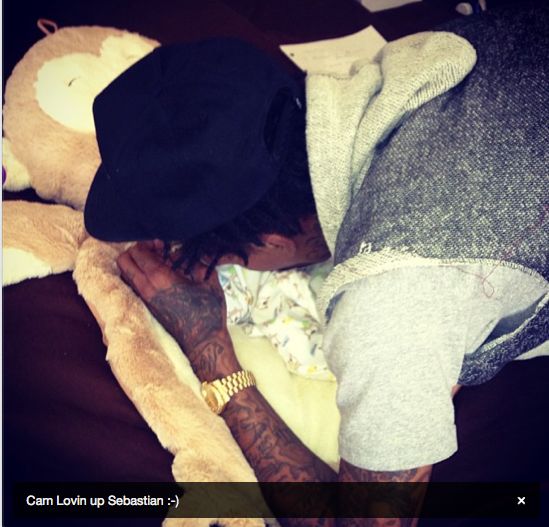 And in other rap news, Baby Sebastian Taylor just met his godfather.  It's Wiz Khalifa's good friend, rapper Curren$y.  Amber Rose tweeted this week:
Yay! I'm so excited 4 Sebastian 2 meet his godfather @CurrenSy_Spitta today! This Lil boy has so much family & Love… It's such a blessing
And Curren$y responded, "He's a king….. The family is royal …. See yall soon"
Sweet!  By the way, Cam (Wiz) and Amber celebrated their two year anniversary this week and tweeted each other sweet nothings.  Congrats.