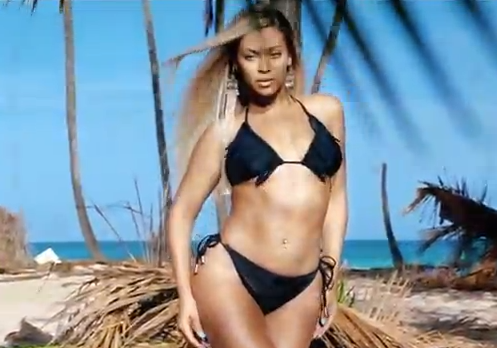 Beyonce previews her "Standing In The Sun" song in her new H&M ad. Watch the commercial inside and see A$AP Rocky give his philosophy about life and things he doesn't understand in the May issue of GQ.
In her latest ad campaign for H&M, Beyonce treats her fans to a preview of her song "Standing In The Sun" written by Sia and Greg Kurstin.
While starring as "Mrs. Carter" in the Jonas Akerlund-directed video, Bey models several bikinis as her banging bronzed bod get kissed by the sunlight.  Grab your fedoras and bikinis because it's about to get fabulously tropical.
Watch the new commerical here:
Also…..
Beyonce posed with Salma Hayek (who partnered with her and Gucci for the "Chime For Change" Global Initiative) backstage at her Paris concert last night.
And on magazine racks…..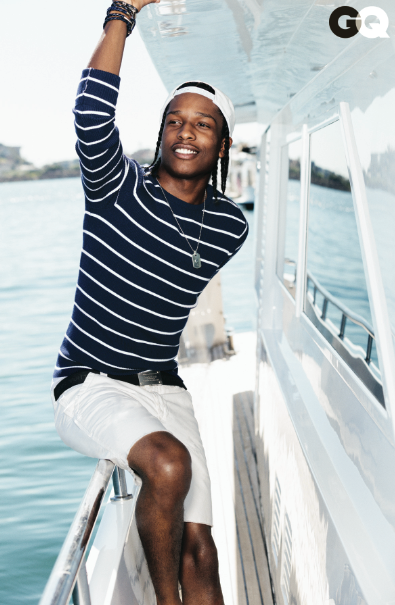 Controversial rapper A$AP Rocky, who's currently trekking it with Rihanna on her Diamonds World Tour, modeled a few choice pieces for summer 2013 in the May issue of GQ.  The cocky fashion divo rapper, who commonly describes himself as "pretty", told the mag, "I wanted to model when I was younger. I was always into clothes and shit."  
He also gave an arrogant shout-out to menswear blogs who post pictures of him.  "I'm the man on those things. I don't really look at them. Well, I guess I do, but only when I'm looking at myself. I inspire me."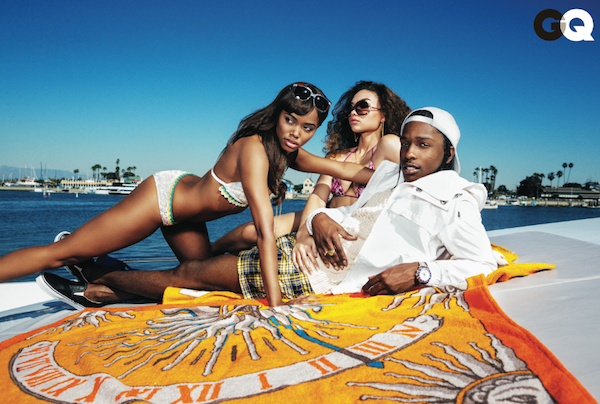 We wonder if he was offended that the stylist for the shoot paired him with a br
own skinned girl wearing pinkish red lipstick.  You know how A$AP feels about the brown girls and those color lipsticks.
Also, he gave a charming interview to GQ where he said anytime he doesn't understand something in life, his philosophy is to just say "F*ck It." Let's all follow him on Twitter and Instagram so we can stay inspired.  But all jokes aside, we're loving A$AP's music.  Dude is talented.
First Picture (Sweater by Ralph Lauren Purple Label / Shorts by Polo Ralph Lauren / Belt by Louis Vuitton / Cap by Stampd Los Angeles. Bracelets by Miansai / Necklace by Gucci)
Second Picture (Jacket by Tom Ford / Sweater and shorts by Gant Rugger / Sneakers by Vault by Vans / Rings by Cartier / Watch by Rolex. Cap by Stampd Los Angeles / Towel by Hermès)
Watch BTS footage from the shoot and A$AP's "F*ck It" philosophy: