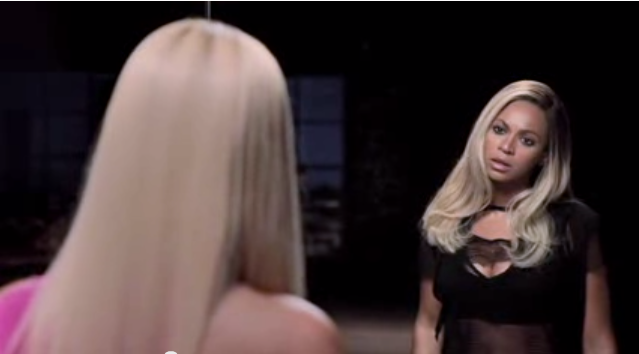 Beyonce just revealed her big 4/4/13 mystery.  New music?  Not exactly.  It's her brand new Pepsi ad….with a sliver of new music in the background.  WOMP.  But we're still kinda loving it anyway.  Check it inside…
After yesterday's big pre-announcement of something popping on April 4 at 9am EST, this morning folks tuned in anxiously awaiting something big.
And the big reveal….is the "Bow Down" singer's brand new 2013 Pepsi ad.  It's called "Mirrors" and showcases a reflection on all the changes Beyonce has experienced through her career: "Bootylicious" Bey, "Single Ladies" Bey, Sasha Fierce, and more.
At the end of the commercial, the bleached blonde diva, who celebrates her 5th wedding anniversary with Mr. Carter today, says "Embrace your past, but live for NOW."  The quote plays into Pepsi's "Now" theme.
In the background of the minute long commercial, a snippet of a new upbeat dance track is playing as the theme.  I'm sure we'll be hearing the full version soon.  Check it below:
Chick looks fabulous as usual.  But while dropping this Pepsi ad is cute and all…we're ready for this new album.  Have a feeling she's going to drop that mug out the blue with no promo or warning though.  Get ready…