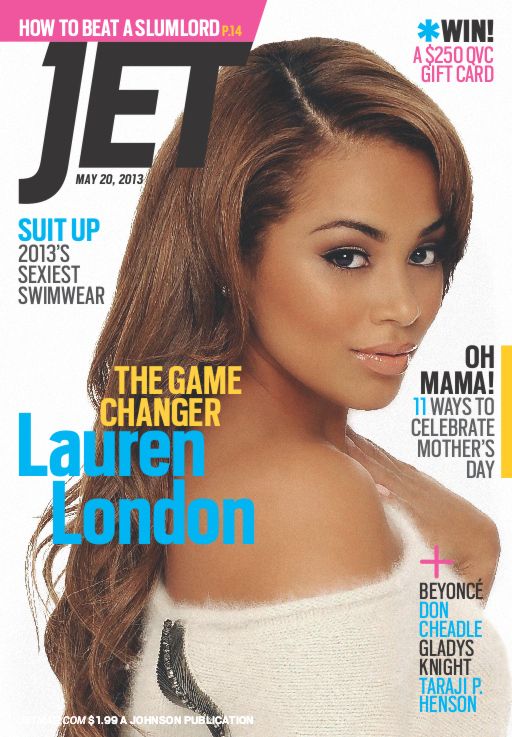 Lauren London is back in the mix with her new leading role on BET's "The Game" and her seemingly positive relationships with her famous ex's other children & their moms.  Check out the fab chick's new cover, and why she's tired of the constant questions about her son's siblings…
In a brand new photoshoot showing off that gorge face we've loved since the movie ATL and a plush white off the shoulder sweater, 28-year-old Lauren London is the latest face of JET® Magazine.  And in the upcoming issue, the single mom gets personal and keeps it all the way real as she gives the inside scoop on how she balances a hot career and co-parenting with her famous ex—Lil Wayne.
Chick also made sure to set the record straight on all the rumors surrounding her personal life and explains why she'll never compromise herself (or her son) for fame. Here's a few excerpts from the issue that hits newsstands April 29th:
On having a positive relationship with Lil Wayne's other children & their moms
"People like to make it into this big thing, but it's really not. There's peace and love and my son knows his siblings. We all get along. We all clearly keep getting along. I'm tired of talking about it. What else do you want me to say?"

On addressing the many rumors surrounding her:
"I'm very blunt and honest. I have a very loyal heart. If I love you, I ride for you if I don't f*** with you, I don't f*** with you…If you want the truth, call me."
Also in this issue–a preview of the trendiest swimsuit styles for him and her, an extensive guide to the hottest summer tours of 2013, featuring Beyoncé and Boyz II Men, and Iron Man 3 star Don Cheadle dishes on his questionable dance skills.  Ha!