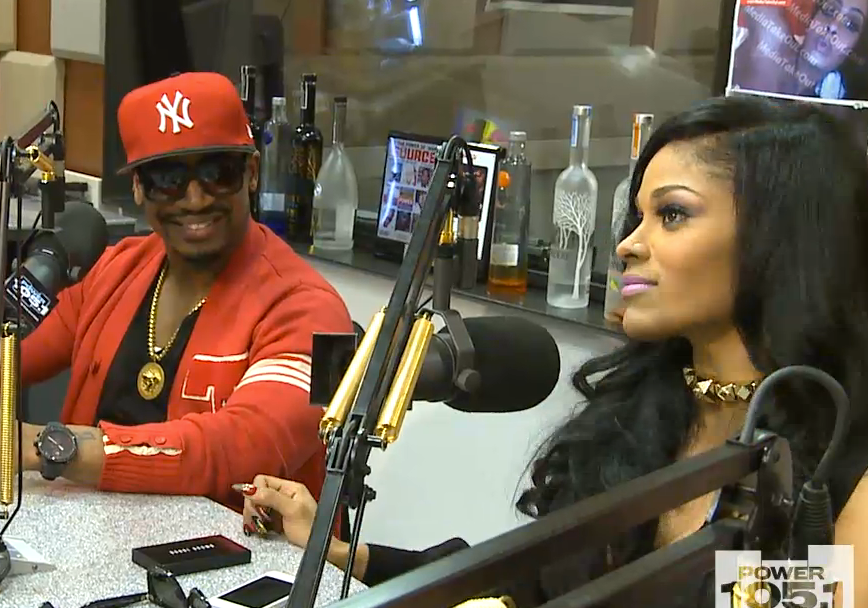 "LAHH ATL" stars Stevie J and Joseline Hernandez dropped in on The Breakfast Club this morning for a sex-charged conversation about their love of threesomes, oral sex and what they like to do in bed.  Watch the interview inside….
As the second season of "LAHH ATL" airs tonight on VH1 at 8pmET,  the show's most popular duo, Stevie J and Joseline Hernandez, took their show on the road for a sex-charged chat with Power 105.1's The Breakfast Club this morning. Though most of the conversation was bleeped out, the two gave the hosts an earful about their sex life and revealed that they genuinely care about each other.  And Jos said just last week that the D is the only reason she constantly goes back for a ride on Stevie's bus.
A running gag throughout the interview was whether or not Joseline has a penis, since it was a huge rumor that took on a life of its own via social media. Since then, she says she has a new make-up artist and won't look so "hard" on camera.
The two then went into a long chat about sex and what it means to them as a couple.  Stevie revealed,  "I don't like conventional sex with one lady.  I like to turn it up."
I guess…
From there, Joseline confirmed that they do indeed have threesomes, but she wouldn't say if she and Stevie J had ever had one with Mimi.  She then revealed that she had a drawer full of sex toys and told ALL about every orface they like to use it in.  And Stevie almost got Eve into trouble when the topic of their previous relationship and sexcapades came up….
When it comes to sex and being faithful, Joseline explained that Stevie can have sex with other women, as long as she is involved.  Ummm, ok.
When asked if they were engaged, Stevie wouldn't say yes or no but told DJ Envy, "We're just working."  He then revealed that the success of the show has allowed him to pay off $3 million in tax debt (which he DOES NOT blame on Diddy).   He confirmed that he and Joseline have a lot of business projects they're working on and they aren't just blowing through their money.  Could have fooled us.
They also had a discussion about the "freaky" stuff they do. Listen for yourselves, but just know he conversation involved Stevie's two-hour oral sexcapades and him saying about certain things, "It's good for the face."   
And if that wasn't enough to learn about the two of them, Stevie is writing a book on relationships for Simon & Schuster!  Lord help us all.
And for those who are still concerned about any type of love triangle, Stevie said "I love Mimi. I'm gonna always take care of Mimi. But me and Joseline are making some moves."
Watch the interview here: