New York Jets rookie Geno Smith is the latest high-profile athlete to join Jay-Z's Roc Nation Sports.  Get the deets inside and read what Foxy Brown said about rumors she bashed Jay-Z and Beyonce in an alleged industry tell-all.
After signing Tulsa Shock star Skylar Diggins and NY Yankees baller Robinson Cano, Jay-Z's Roc Nation Sports has added New York Jets rookie Geno Smith to its rooster of talent.  Roc Nation proudly tweeted the announcement earlier, "We would like to welcome @genosmith_12 to the #RocNationSports family!"
During an interview with the NY Daily News, Eugene revealed that Jay-Z only played a minor role in why he chose to sign with Roc Nation.  He added that his primary focus is on playing football, not creating a certain "image".
"The only thing that's important to be is the image that is perceived around this lockerroom, the guy that I am to my teammates, to my coaches and the work that I put in on the football field.. I'm all about football. I'm all about getting better and that's the one thing that I'm focused on: Better myself daily and prepare myself to be there when the time comes."

"I don't worry about the outside world's perception. I'm comfortable with who I am, strong in my faith. I know that this isn't because of an image thing or trying to market myself. It's just being comfortable with the guys who's going to represent me. That's ultimately why I made that decision."
Congrats to Geno.
In other Jay-Z news….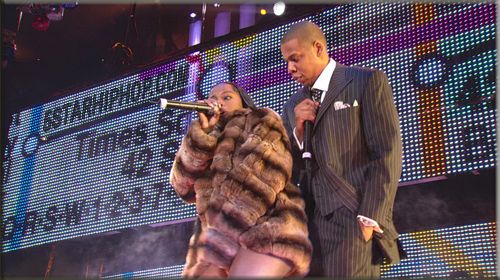 Foxy Brown has denied rumors that she penned a tell-all biography bashing her mentor Jay-Z and his wife Beyonce.
In an interview with TMZ, Foxy shot down the false report (which claimed Jay gave her gonorrhea and took her virginity) saying,
"The atrociousness of this story sickened me to my stomach. Any and everyone involved will be contacted by my attorney. In all my years in the music industry, these are the most disgusting and disrespectful allegations I've ever experienced. This fictitious story … with NO audio, visual or written interview, clearly was concocted with malicious intent."

She continued,

"Jay has only been wonderful to me and my family, a great friend throughout all the years I've known him and we had nothing but great success as a team."
Foxy also disputed reports that she made distasteful comments about Jay's wife Beyonce.
"Beyonce, his wife, has always been gracious and sweet to me … I will NOT let any undercover hater create discord and disrespect my name and reputation. This disrespect will NOT be tolerated."
Mind you….we never reported on any of the speculation surrounding the alleged Foxy Brown biography as there was never any credible proof presented.  And now we know why….