Kanye's back with his baby mama, and looks in better spirits then last time we saw the hot couple together!  After jetsetting to Greece with her family as the E! cameras rolled, then skipping over to London for the Mrs. Carter Tour show, Kim K. met up with her man Kanye West in NYC on Sunday.
Kanye threw on his fave leather pants and fringed boots to go to dinner at a friend's apartment in New York with his girlfriend Kim, who rocked a satin finished pencil dress from Prada, accented with a flower on the bust, and white pumps.  And reports state that "friend" is none other than fashion's HBIC Anna Wintour.
Hopefully Kimmy impressed Anna because Monday night's the Met Ball, and we all know Anna is pissy Kim will be there as Kanye's date this year. Anna has constantly snubbed Kimmy from the ball for years now, but since she got knocked up by Yeezy Ana had no choice but to give her an pass this year!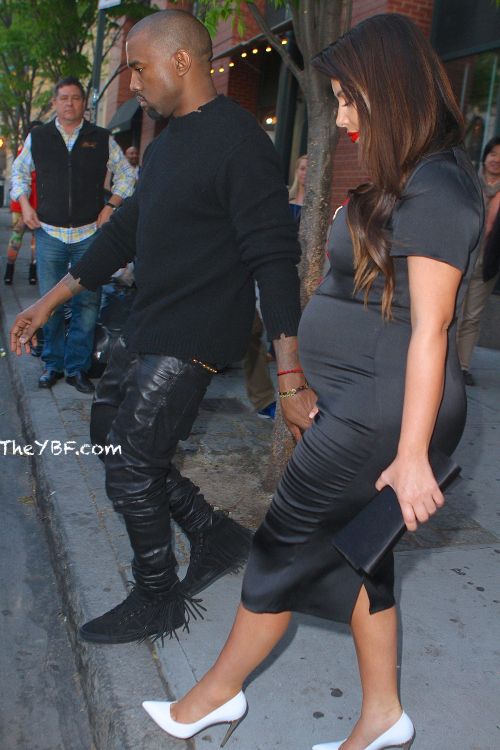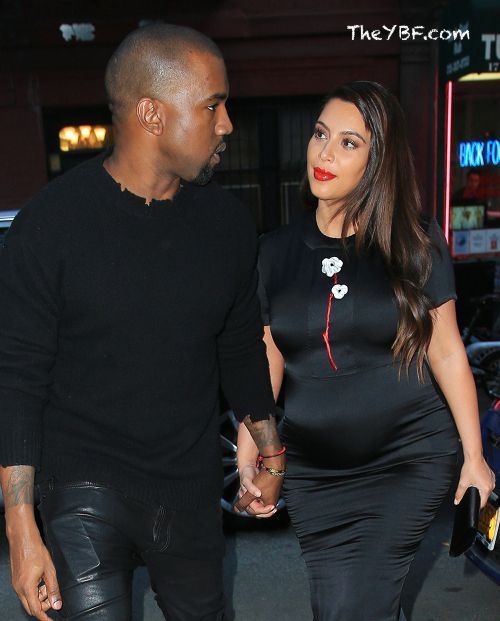 Kim Kardashian is reportedly 7 months now, and has up her fashion game since Ye has been in town, and she looks smoking hot in t in this black satin number with white pumps, and an red lip. Love it! Kanye West sure knows how to style his muse of the hour!
BTW that cell phone in Kanye pocket is holding on for dear life honey chileeeee yes!