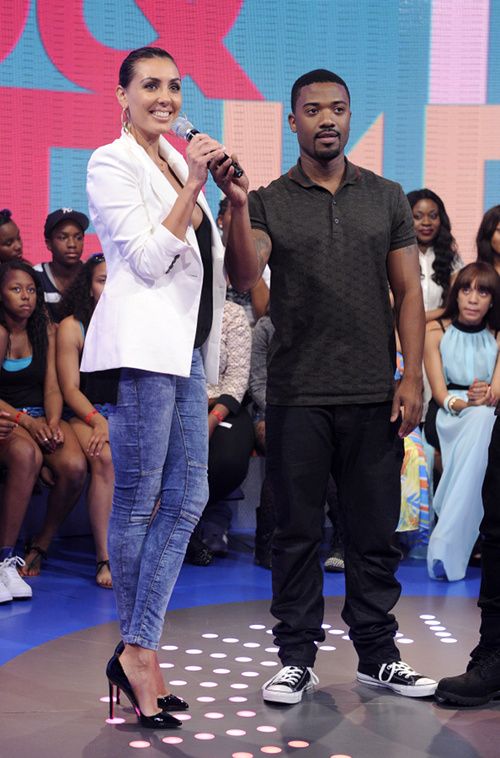 Singer Ray J dropped by "106 & Park" yesterday to discuss his "I Hit It First" single and to introduce the world to his "Kim Kardashian Look-Alike" co-star Luna.  See their clips inside ……
Grammy-winning songwriter Sevyn Streeter joined Bow Wow to co-host the latest episode of "106 & Park".  The "I Like It" singer wore a Jeremy Scott jersey, Zara shorts and boots from Blumarine.
During the show, Ray J appeared to discuss his hosting gig on "Bad Girls All-Stars" to dish on  his "I Hit It First" video.  When asked who the song was about, Ray would not mention any "specific" names, but did admit,
"The song is about something I did. I try not to go so hard with the record 'cause it's self-explanatory. There's other relationships that I've been in too, just not as popular as others that I've dealt with."
He also revealed that there's an album in the works and it will feature songs with more substance than "I Hit It First".  "There's records coming with a whole lotta more substance. We havin' fun with this. It's summertime, let's live, let's have fun."
During his appearance, Ray J brought out his video co-star, Luna. Who doesn't look a thing like Kim Kardashian! Side Note: It must be an career low to know the biggest thing of your accomplishments was that you played the knock off version of an talentless person in a music video made about an porn tape. HMMM…..
Watch the interview clips here: