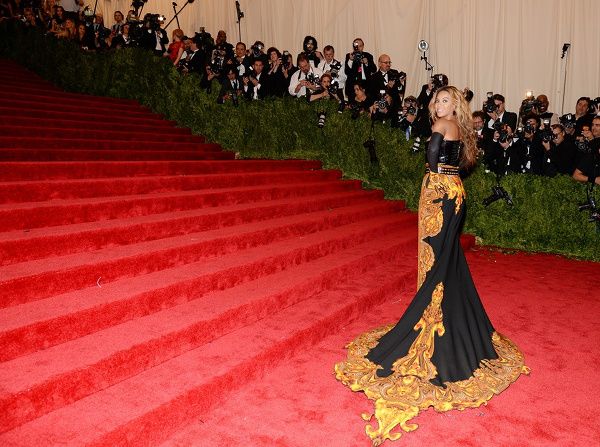 Another year, another Met Ball.  The biggest fashion red carpet & event of the year is currently underway at MoMA in NYC! Check out the fashion risk takers of the night inside….
Once again, for the second year in a row, Beyonce Knowles took over VOGUE's 2013 "PUNK: Chaos To Couture" themed Met Ball tonight rocking an firece  and sexy look from Givenchy Haute Couture.  After last year when she shut it all the way down in the purple & black feather & sheer number, King  Bey came back, and switched it up with a strapless leather bodice and a printed gold and black skirt with a high slit that exposed matching boots, and came with matching gloves.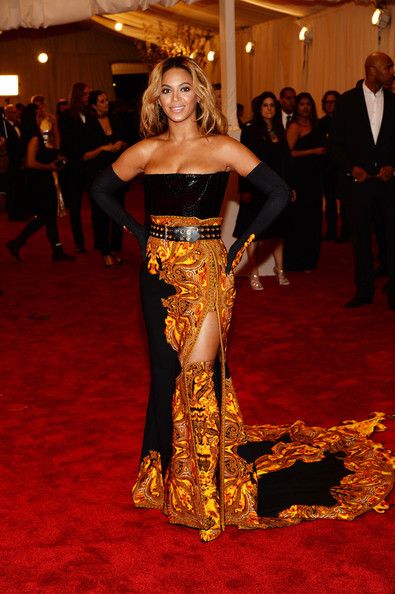 Gotta love it. Bow Down…..
And she's not the only risk taker who was snatched to the gods!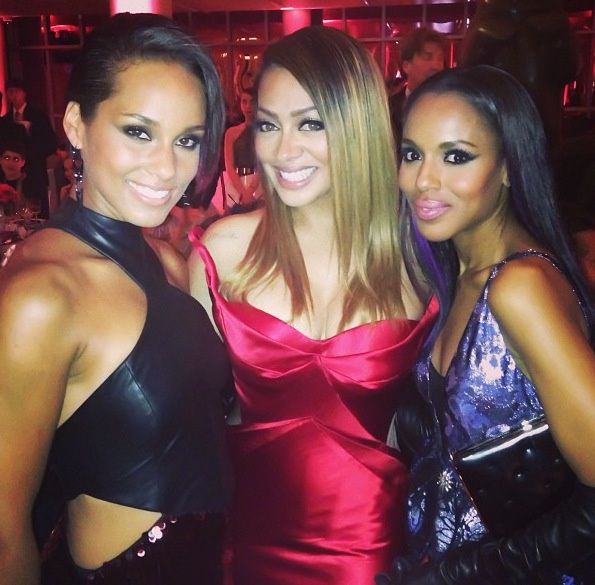 We're absolutely loving Alicia Keys', Lala looks fabu (so do the "girls") and scandalous Ms. Kerry Washington's looks for the night.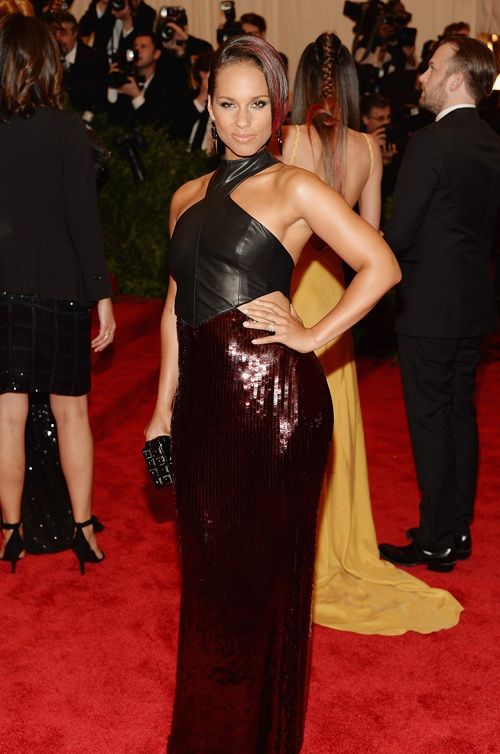 Alicia kept her sexy edge in a leather cutout Jason Wu halter dress with a red sequined bottom half and the perfect touch of edgy punk with Robert Lee Morris jewels, a Tonya Hawkes clutch and fierce streak of red flowing through the front of her hair.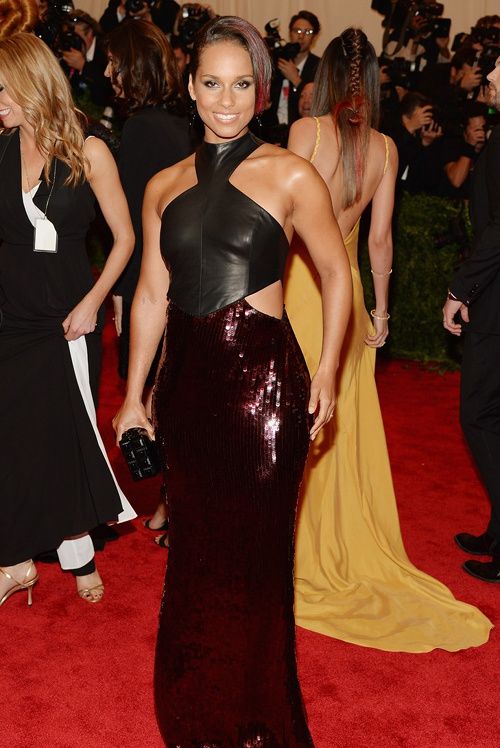 Swiss is sure nuff lucky!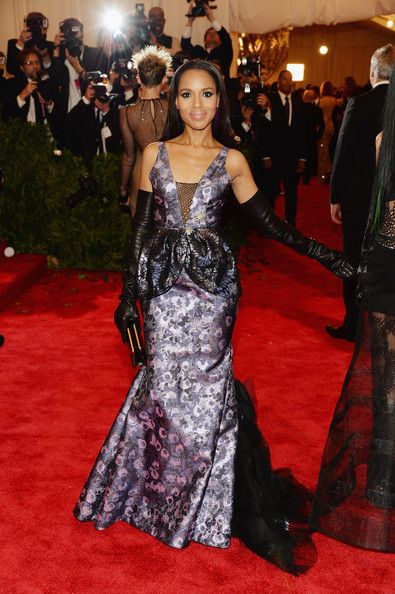 "Scandal" star Kerry Washington has been on a whirlwind NYC promo tour today hitting up several back to back to back talk shows.  And she pulled it together once again tonight in a gorgeous Vera Wang creation.  Vera stepped outside the box of her usual simple colors and flowy looks to go for a structured multmedia dress with a bold metallic print.  And it worked perfectly for Kerry.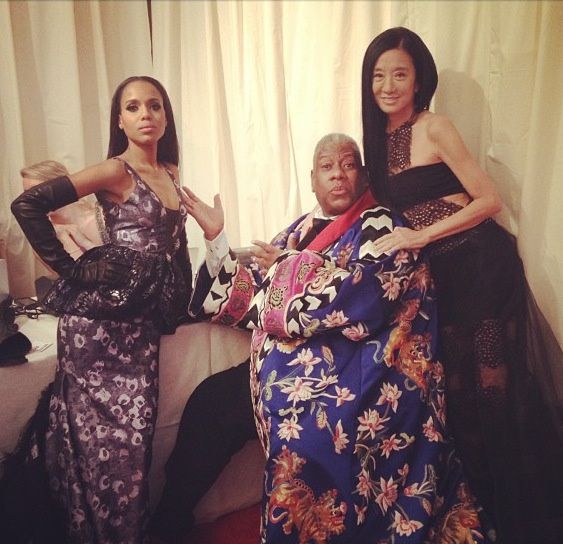 Kerry and Vera even posed it up with Andre Leon Talley inside looking like a page snatched straight from VOGUE magazine.  Oh Andre ! Serve.
LaLa Anthony looked amazing as she flew solo in this red satin Zac Posen dress as she showed off her new slim & toned bod in a dress . Now this material is not forgiving , but Lala body is off the meter so she had no worries! Hot Damn Honey Nut Che…Let me chill!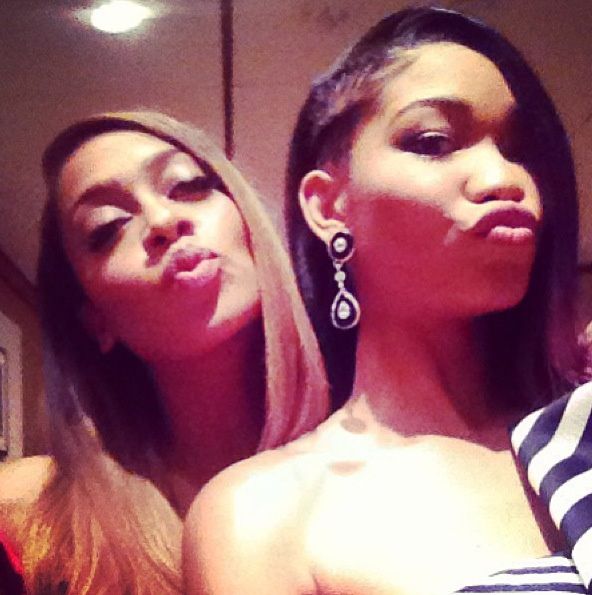 La had some fun with her girl Chanel Iman who rocked striped Diane von Furstenberg.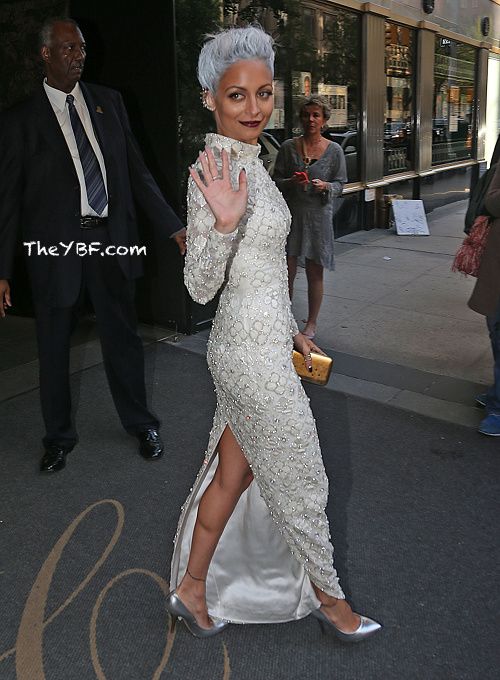 And let's discuss Nicole Richie's surprising silver foxy look shall we?  Im loving it on her! We must say, it works for her.  It's a costume gala after all and she gave just enough "costume" drama.  Chick could play Storm in X-Men.  The fashion diva rocked Dana Rebecca Designs and a Maria Francesca Pepe ring.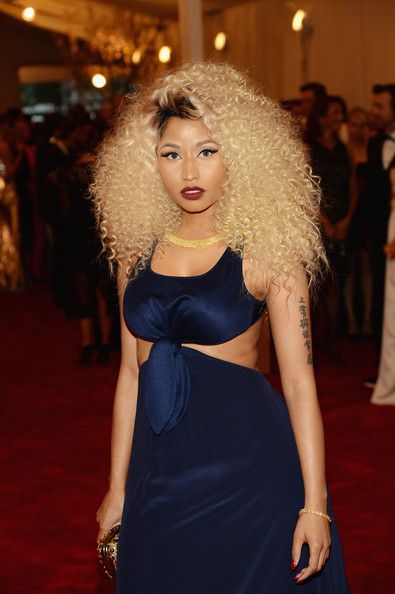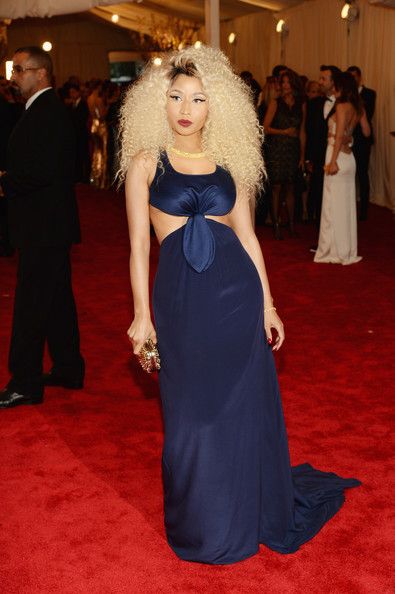 Hey Nicki ! I'm getting an SJP sex in the city vibe from Barbie in this number, and all though I've seen her in different looks latelty that I liked more this Tommy Hilfiger gown is very flattering on her body type! She's been avoiding the big hair , and it is the costume ball so the bigger the better!
By the way, Tommy gifted her with a Rolex a few hours ago as well that she happily put on Twitter.  Nice!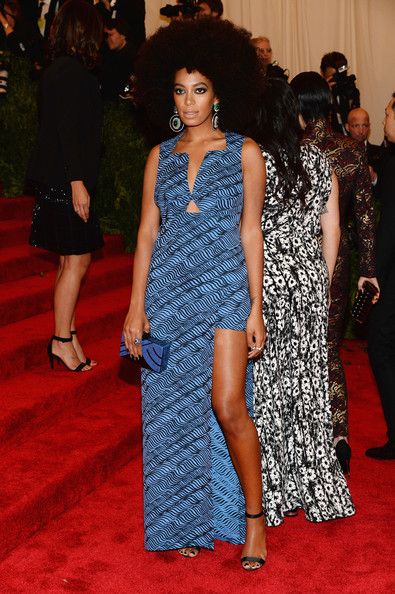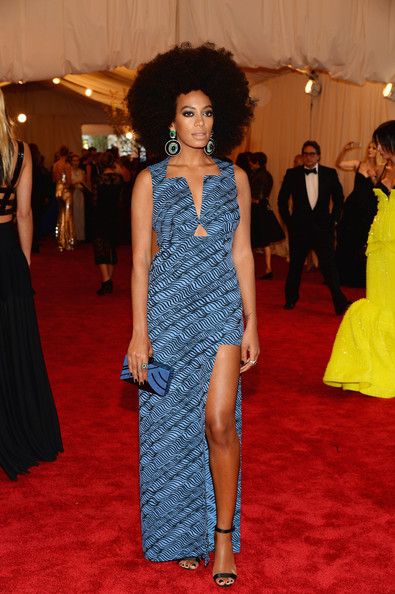 Fashion diva Solange Knowles never gets it wrong.  And tonight is no different.  The "Losing You" singer stepped outside the box and rocked a printed blue Kenzo dress for, as she called it, an "Afro Punk" look.  And we're loving every bit of it.  The hair, that slit, and those gorgeous earrings.  Loves it!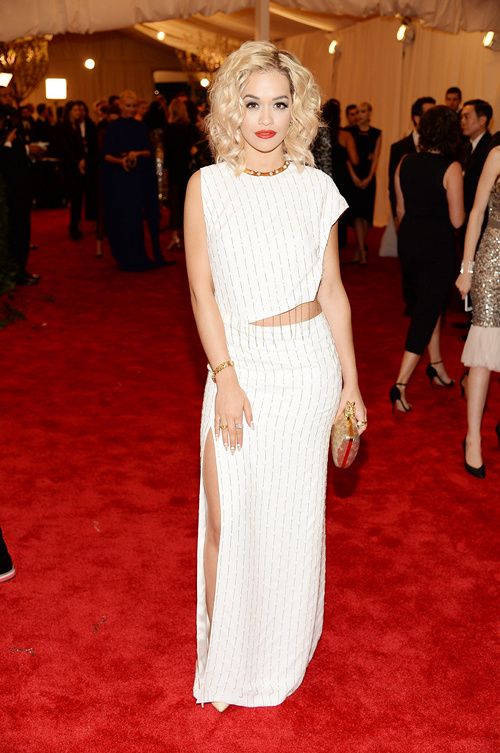 Rocking a white Thakoon look with an exposed midriff slit and a high split in the skirt, Rita Ora got it all the way right witht he hair and makeup as well.  Loving this look for her.
And the athletes also made their way to the hige fashion event: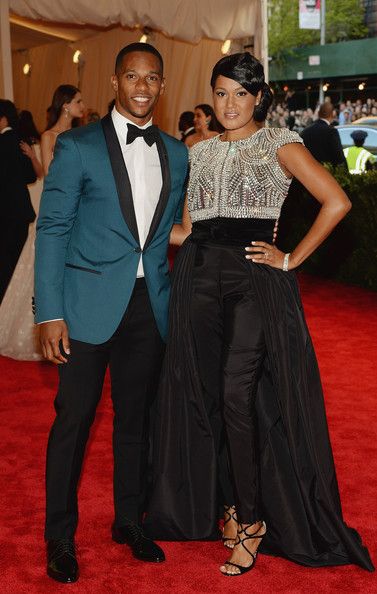 NY Giants star Victor Cruz kept it dapper in a teal Lanvin dinner jacket with his tux.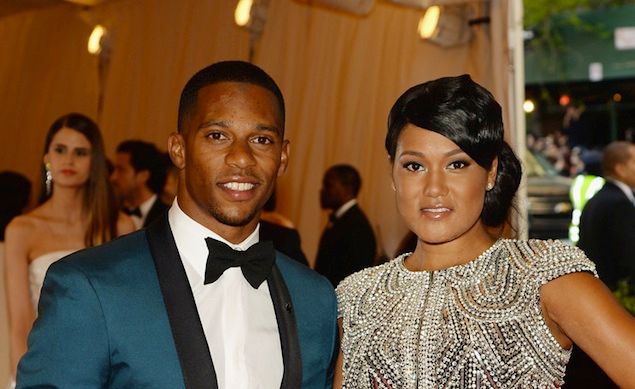 And his fiancee Elaina Watley looked great in this very detailed bodice of a dress with a full black skirt.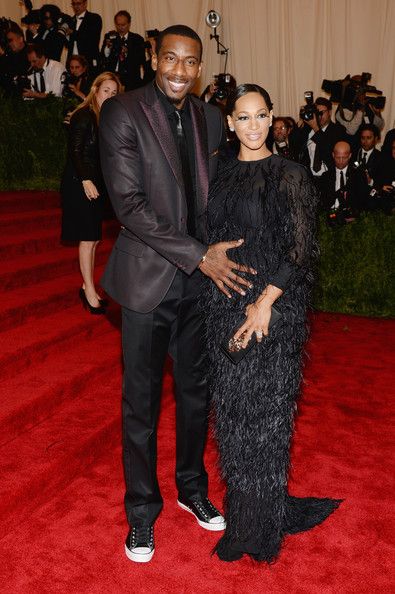 NY Knicks star Amar'e Soudemire, who plans to come back from injury in Game 3 later this week, attended in a dapper Calvin Kelin suit with a burgundy jacket full of sheen.  Loves it.  And his wife Alexis makes pregnancy look ridiculously fabulous as she rocks a frock full of feathers by Giambattista Valli.  Gorgeous.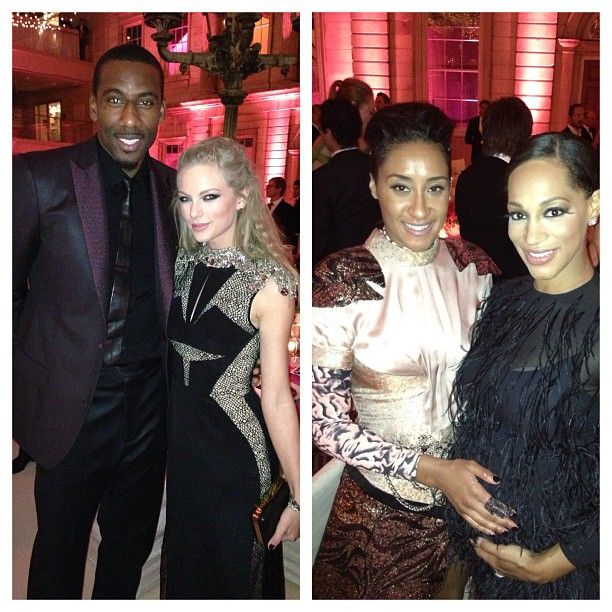 The twosome took pics with Taylor Swift and teammate Tyson Chandler's wife, Kimberly.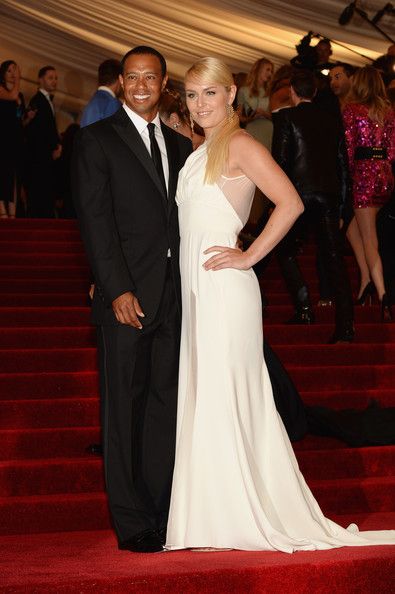 And rounding out the athletes, Tiger Woods and his new chick, pro ski racer Lindsay Vonn, made their red carpet debut tonight.  No risks taken here, but the white gown is pretty.
Well hello Miss Jenny From the Block!
Jennifer Lopez got catty in this stunningly glam Michael Kors gown.  Very unexpected look by the all American designer, but the risk paid off because Jenny looks amazing.  As usual, the cheetah style nude and black print dress looks painted on.  And she's freaking flawless.
Oh hey ALT!  Get it with those pink socks!