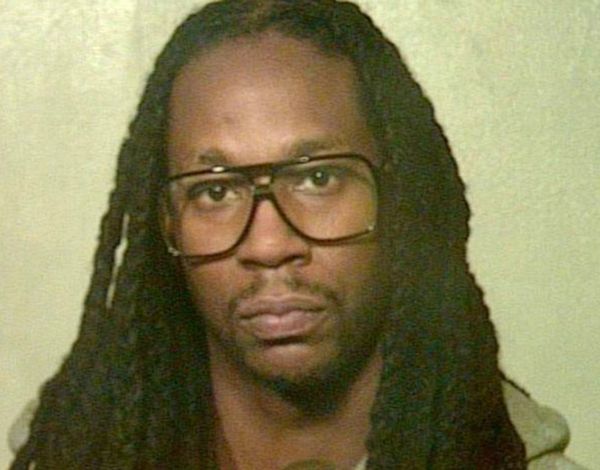 Rapper 2 Chainz was arrested for obstruction of justice (mugshot above) after he refused to grant the Oklahoma City Police Department access to his tour bus. Get the deets inside and find out about Juicy J's $50,000 scholarship for twerkers……
2 Chainz and 10-members of his entourage were booked into the Oklahoma County Jail after they refused to allow the police to search their tour bus.
Last night, Mr. Chainz performed alongside Lil Wayne, T.I. and Future for their America's Most Wanted Tour and apparently they "celebrated" on the bus.
Initially, cops pulled 2 Chainz's tour bus over for a busted taillight, but once cops made contact with the driver, they realized some illegal activities had been going on. But cops weren't allowed to confirm their suspicions because 2 Chainz and the crew LOCKED the doors and refused to allow them to search the bus. The cops towed the bus to their parking lot and began a search once they obtained a search warrant. Mind you….all of this took 8 hours!
Oklahoma City Police Department Sergeant Jennifer Wardlow told Radio.com,
"We stopped the bus about midnight and it was near I-40 and Meridian,"while the investigation was still underway. The reason for traffic stop was it looks like there was a broken taillight. When officers went up to bus and made contact with the driver, there was evidence of drug usage going on the bus. We're not getting into specifics of what it was, but it was apparent to the officers that there was drug use going on the bus. The driver was taken into custody without any problem. When he got out and shut the door, it locked so the officers couldn't get into the tour bus.

"The decision was made to tow the bus to our police training facility and obtain a warrant. It was about 8 a.m. Oklahoma time when they were able to get a warrant, and it was at that time that all the people who were on the bus came off."
According to the AP, investigators DID find narcotics on the bus but they could not determine who they belonged to. But over on Twitter, Titty Boi/2 Chainz claims they didn't find anything!
FYI…..the officers took the following persons into custody:
Tauhed Epps (2 Chainz)
Cedric Brooks
Abdullah Mujahid
Rory Smith
Jermaine Simister
Stethen Boykin
Jack Brown
Marshall Sudderth
Robert Jordan
Leon Smith
Bryan Gathii
Yep, all the government names on blast.  We'll keep you posted on future charges…..
And in other rapper foolywang…..
If you know how to "Bounce It" and you need a few dollars to get through school, rapper Juicy J has the solution for you.  While promoting his upcoming cd, Stay Trippy (August 27th), the rapper is offering a $50,000 scholarship to the best twerker.  Yes…..you read that correctly. $50K for twerking!  Juicy made the announced on Twitter and folks seem to be taking this very seriously……
And if that isn't enough, fans can listen to Juicy J's new online via his online virtual stripping game.  Smh…… We guess it beats taking out a student loan…or does it?
The Randomness:
1.  Former New England Patriot Aaron Hernandez indicted for the murder of Odin Lloyd. Story.
2.  "Moesha" star Marcus T. Paulk — who played the little brother Myles on the show — turned himself in to authorities after allegedly putting his girlfriend in the hospital after punching her in the stomach.  If true….Sucker!  STORY