You know the saying "Women lie. Men lie. BUT number DON'T lie", and with so many media outlets predicting the early death of Jay-Z's new business venture , so Hov felt as though he needed to remind us. The Roc-A-Fella boss barely uses social media, but he had to get the facts straight, so he took to Twitter to let that blue bird do the talking.
Rumors have been circulating that TIDAL, the music streaming company Jay Z acquired for $56 million, is a failing company. On the heels of Tidals' CEO being fired, along with 25 employees in the first month of doors opening things don't look to good,  but Jay ain't got no worries.
Tidal has been around for just a little over a month, and Jigga Man says they have over 770,000 subscribers and that don't believe everything we read because there are big companies that spend millions on smear campaigns. Let me find out innocent Pandora and Spotify drinking that hater-aide.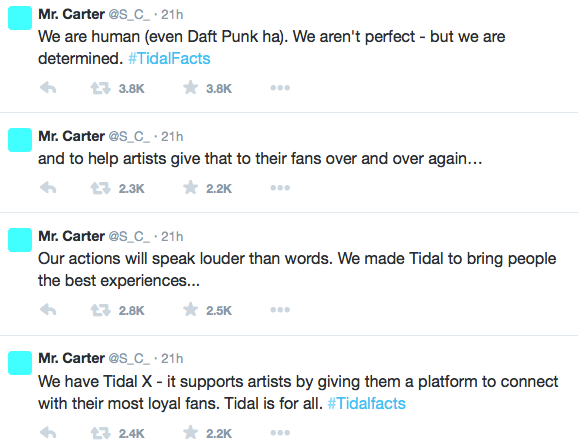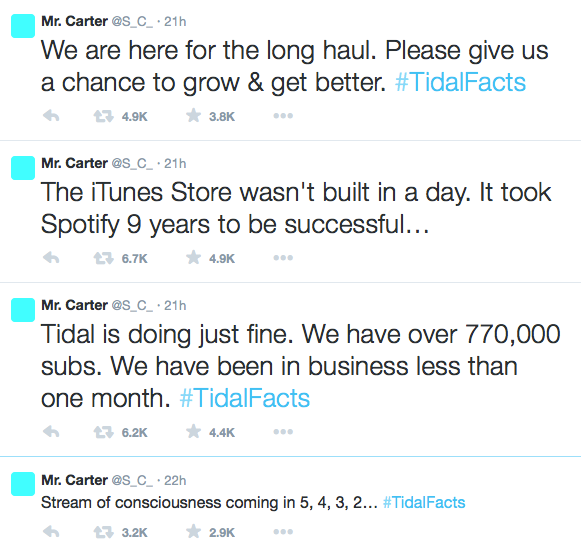 Jay-Z enlisted many of the industry top artists to invest in this company, and I think he'll have a bunch of artist doing choreography on his front step if he don't have their money.
Right Rihanna?
Will you be using Tidal or  are you good?
Follow @toots_santago