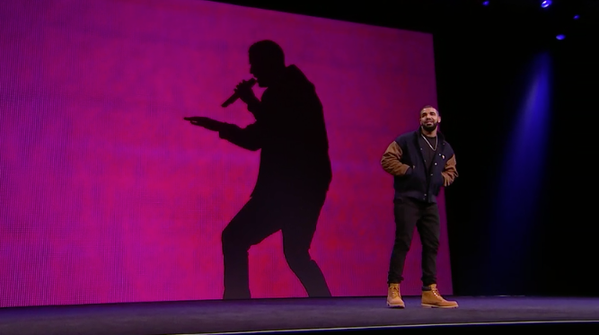 Apple has officially launched their new highly-anticipated music-streaming service, Apple Music, following the reports of big-name artists in talks to sign on, and Drake may be one of them.
On top of the tech company announcing the new music service at the Apple Worldwide Developers meeting today, they also announced that they will be releasing exclusive video content from ESPN, Comedy Central, BBC, and more. Big tings a popping!
Comparing to other music-streaming services in competition ( Spotify, Pandora, and Tidal), Apple Music will be free for the first three months, then it will be $9.99 a month. It will be available starting on July 30.
Drake has been rumored to be part of Apple Music, along with others, and today the reports were confirmed. Drake took the stage during the conference to speak on the service, and hinted that he will be releasing his upcoming album, Views From The 6, through Apple Music in the future.
"As I'm working tirelessly on this next album, this comes at the perfect time for me. Given the great success of my last mixtape, which went directly to iTunes, I can't wait to incorporate Apple Music and especially Connect into what I'm doing next. I'm really excited about what I'm working on," he told the crowd.
The launch of Apple Music also comes almost a year after the company purchased Dr. Dre and Jimmy Iovine's Beats Music, which has now been rebranded as the radio element to the service. During the launch, a commercial also reportedly played brand new music from Pharrell Williams, who was also in talks to be working with the service. The Weeknd also closed out the announcement by performing new music live for viewers and attendees. See the the commercial for Apple Music below.