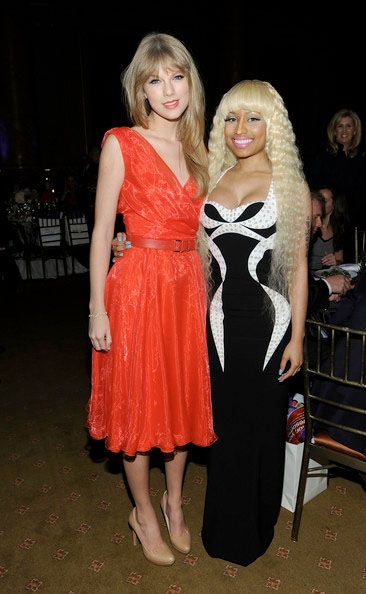 The 2015 MTV VMA nominations have brewed up some social media drama between America's sweetheart Taylor Swift and the Pop raptress Nicki Minaj. Peep their tweets and find out why Taylor possibly popped off at Nicki when you read on.
Also, Tinashe, Azealia Banks and Dawn Richard join the discussion. Get it all inside…
Well, well, well! The 2015 MTV Video Music Award nominations have certainly caused some controversy on Twitter.
Earlier today, Nicki took to her Twitter account to air out her frustrations about her video "Feelin' Myself" with Beyonce being snubbed and "Anaconda" being shut out of the Video of the Year category and Best Choreography category. She also addressed when "other" girls who are said to have an impact on the "culture," they get nominated. Hmph. Peep those tweets HERE.
Following her rant, Taylor Swift took it upon herself to respond to Nicki via Twitter. While Nicki never dropped in any names, maybe Taylor felt she was included in the "other girls" category (or it could possibly be another reason which we will get into in a second), so she decided to respond. And Nicki popped back.
Peep their exchange below: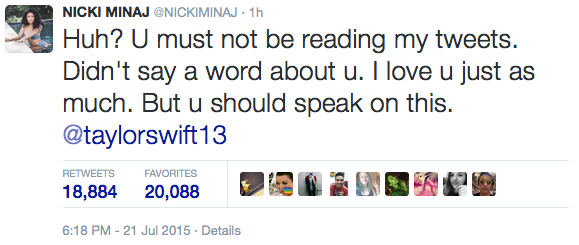 It didn't end there.
The Young Money star then went on to BLAST white media for their trolling antics. She tweeted:

Good points.
While we're not exactly sure why Taylor decided to come for Nicki, we have a few ideas. Outside of the "other girls" comment, Nicki went on a "favoriting" spree on Twitter, clicking stars on tweets that blasted Kendrick Lamar's nominations. K-Dot nabbed 4 nominations of his own for "Alright" (including Video of the Year) and 9 nominations for his joint track "Bad Blood" with Taylor (also including Video of the Year). So maybe Taylor was trying to take up for a friend? *shrugs*
Here are a few tweets she favorited about Kendrick:


Or maybe she responded after seeing these tweets: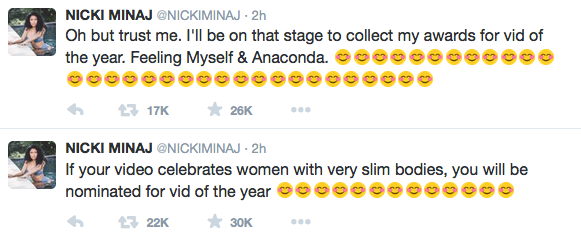 So if Taylor wins an award, Nicki is going to be on her Kanye West "I'm gone let you finish" ish! HA!
Co-signing the "All Eyes On Me" raptress….
R&B newcomer Tinashe offered her support. She wasn't nominated for any awards this year.
Harlem raptress Azealia Banks said her piece about being snubbed in all categories:
And then Dawn Richard (aka D∆WN) also aired out her frustrations for not landing any nominations:

Thoughts?