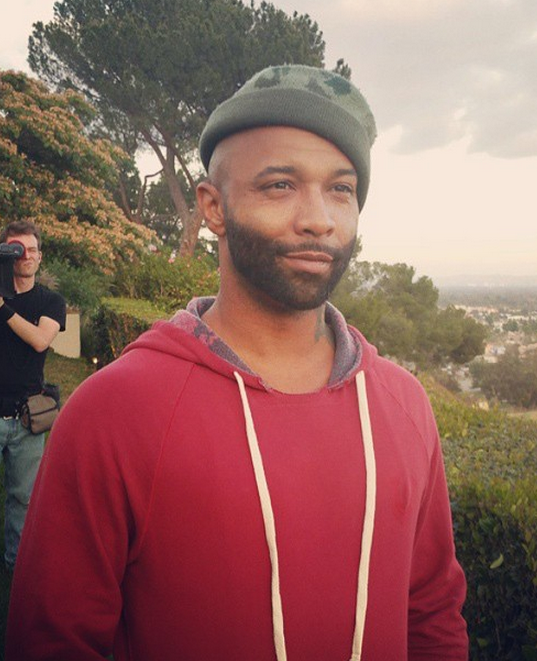 Joe Budden is the ultimate HATER!  He just slammed Meek Mill, and Nicki Minaj's  relationship !   Come inside and hear Joe spark another light skinned vs. dark skinned war ….
Joe Budden needs a lifetime supply of palm trees.  Because he is throwing the shade yall. If you watched the 2015 BET AWARDS, you witnessed Meek Mill "All Eye's On You with his baby Nicki Minaj, and it's CLEAR he's very much in love.  That emotion didn't escape Joe who used his "Ill Name This Podcast Later" podcast this week to slam Meek and get a few jabs in. First, Joe joked that he took several screen shots of Meek looking at Nicki in awe….and he ws unpleased by it saying:
"Part of my problem with Meek and Nicki] is Meek's music is too hard for me to look at him with this sappy f*ck sh*t," Joe said. "Be the hardcore guy that I'm sure she was attracted to at some point. It's nasty. I hate everything about it.
Why yo so mad tho?
That statement led to a discussion with his co-hosts about Meek acting this way because he's dark skinned and why "dark guys" don't normally get pretty girls. Yea….he said it!
"Im glad a dark skin  guy is behaving this way. Light skinned guys…we're not moving like that. Light skinned guys….we're used to getting a bad bitch. He's all….like this bitch just stepped off of fucking Mars and is like the only girl. I hate it all. but i do appreciate them for keeping the hope of love alive."
Chile……messy. By the way, messy boots Joe  is set to appear on the next season of VH1's "Couples Therapy" with ex-girlfriend Kailyn Garcia.  He's also set to drop his next disc All Love Lost on September 25th. Last time we heard about the "Pump It Up" rapper her was a wanted man for allegedly beating up his ex- girlfriend.  Joe is not the one total being as though he stays losing due to women, and hasn't had a hit since 2000 and when ever.
In the meantime, press play to hear the hater-ville convo….